ABOUT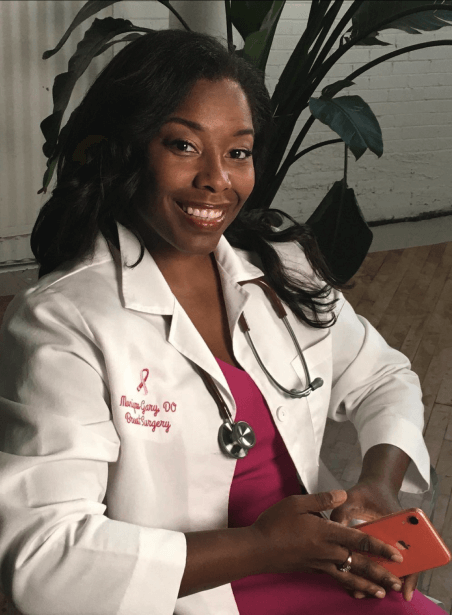 Dr. Monique Gary, DO, MSc, FACS
Dr. Monique Gary – "Dr. Mo" – is a breast surgeon, educator, entrepreneur, media personality, farmer, and philanthropist. Dr. Mo currently serves as the Medical Director of the Grand View Health/Penn Cancer Network cancer program, where she also serves as director of the breast program.
Dr. Mo believes in the power of the connection between mind, body, and spirit to promote overall wellness, and is passionate about addressing the disparities in health outcomes for marginalized people. By both exploring the inequities that lead to these disparities and helping to create pathways for access, Dr. Mo's work, which has been published online, in print media, and featured in peer reviewed journals, aims to make wellness – physical, mental, and emotional – accessible to all.
Dr. Mo completed her medical degree at the Philadelphia College of Osteopathic Medicine, and her general surgery training at UMass, followed by the Breast Surgical Oncology Fellowship at Georgetown University Hospital. She holds faculty appointments in surgery and serves as the professor for national breast cancer advocacy organizations, including Living Beyond Breast Cancer, Touch, the Black Breast Cancer Alliance, Tigerlily Foundation, The Chrysalis Initiative, and the National LGBT Cancer Network.
Beyond her surgical work, Dr. Mo is building a movement to achieve true health equity and help communities develop holistic and integrative approaches to cancer care and wellness. She is CEO of Still Rise Farm, a 40- acre farm that was founded as a "wellness incubator" for cancer patients and under-resourced, marginalized communities. The farm, intended as a one-stop destination for wellness information, resources, and support, is located in Upper Bucks County, PA, where Dr. Mo can be found teaching mindfulness, body positivity and sexual wellness, and the principles of "food as medicine."
Dr. Mo can also be found on radioOne stations in Philadelphia giving tips for healthy living and cancer risk reduction, and weekly on Blackdoctor.org as the co-host of "The Doctor Is In", a web series dedicated to promoting survivorship in breast cancer patients and arming them with both science and support for their journey.
READ MORE
AWARDS & ACCOLADES
2023
Harlem Fine Arts Show's (HFAS) 15th Anniversary "Salute to African Americans in Medicine" (AAIM) Honoree
2022
NAACP Pioneer Award Recipient
2022
Pine2Pink Foundation Earth Angel Award Recipient
2022
Living Beyond Breast Cancer Donna Noce Colaco Going Beyond Honoree
2020
Philadelphia College of Osteopathic Medicine (PCOM) Alumni Association's Certificate of Honor
2017 — 2020
Leading Physicians of the World and Top Breast Surgeon in Pennsylvania
2017 — 2020
CBS-KYW Philadelphia Women's Achievement Award